GRATED
GRATED – BAG
Grated Parmigiano Reggiano – grams 70 g, 100g, 500 g, 1000g, 2500g, 5000g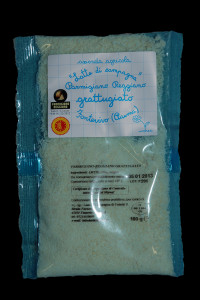 Semi-fat, hard cheese which is cooked and ripened slowly. It is made from unpasteurized, partly skimmed cow's milk by separation, and it is curdled by acid fermentation.
Structure:
granulometry uniform.
Typical paste aroma and flavour:
fragrant, delicate, tasty but not piquant. Typical smell of Parmigiano-Reggiano; from light straw-yellow to straw-yellow colour.
Valori Nutrizionali
For 100 g. of product:
| | |
| --- | --- |
| Calories: | 392 Kcal = 1633 Kj |
| Protein: | 33 g |
| Fat: | 28,4 g |
| Carbohydrate: | 0 g |
| Sodium: | 0,68 g |
| Calcium: | 1160 mg |